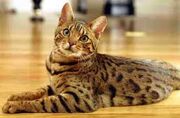 Hazelwing is sassy, delicate, spoiled (as a kittypet, still has alot of influence on her) sweet, charming, small in size, snobby/stuck up slightly, dropdead gorgeous she-cat. She is expecting kits.
Mate-Stormcloud
Clan-LightningClan
Family
Mate-Stormcloud
Mother-Twirly
Father-Swiss
Offspring-Unknwon ATM
---
Trivia:
She was spoiled by her mother and twoleg, as she was the prettiest of her brother and herself.
In the LigningClan allegainces, she is listed as pretty, but this should be dropdead gorgeous.
It is said that she has a brother, but it is unknown what happened to him.
She is Stormcloud's perfect mate as they have a similar personality.
Ad blocker interference detected!
Wikia is a free-to-use site that makes money from advertising. We have a modified experience for viewers using ad blockers

Wikia is not accessible if you've made further modifications. Remove the custom ad blocker rule(s) and the page will load as expected.