Description:  
Mintstreak is a she-cat with cream fur, white tip of the tail and muzzle, and emerald green eyes. Her four paws were once white too, but they permanently got stained green. Some of the white coloring is still visible, but only seen if you look closely... She is smaller than the avarage she-cats. Her personality is nice, polite, and smart.
History: 
Mintstreak was first seen waking up at the Warriors den and walking out of it. She then decided to entertain the kits, moving her tail on the ground like a snake, which attracted the attention of Banditkit! (Now Banditpaw). Fust a few minutes after that, the deputy's scream could be heard across the entire camp. Mintstreak ran as fast as she could to try and protect the deputy, but it was too late... The depurty was already dead. Mintstreak was seen depressed about this, but got over it. Four moons later, she is seen returning to camp from hunting, along with two other cats, which names are not mentioned. Then, the cream she-cat then went to Finchflower's (Medicine cat) den, asking if she wanted to share a dove with her later. Lastly, she turned around to leave, but Shadekit was in the way. The little she-kit sat next to the den's entrance to watch the sky, which Mintstreak soon joined.
Trivia: 
She gets very sensitive if somebody in the clan or close to her dies.
She will even give her life to protect the  medicine cat/ deputy/ leader.
She got her paws stained green because she likes to run a lot on the gass. She's been running on it since she was little.
She sometimes goes near the nursery to play with the kits.
Family: 
Mother 
Unknown
Father 
Unknown
Sisters 
None
Brothers 
None
Mate 
None
Kits 
None
Picture/reference:
I don't own the image!
Edit: Troutiee
Art:  Neikoish on DeviantArt
Mintstreak: Me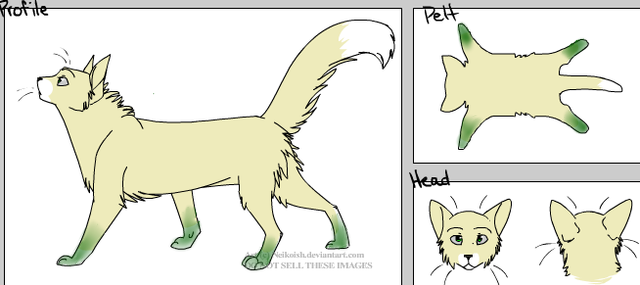 Ad blocker interference detected!
Wikia is a free-to-use site that makes money from advertising. We have a modified experience for viewers using ad blockers

Wikia is not accessible if you've made further modifications. Remove the custom ad blocker rule(s) and the page will load as expected.