Tai
Affiliations
Current:
Loner
Names

Kit:
Loner:
Queen:

Tai
Tai
Tai

Family

Mate:
Kits:
Mother:
Father:
Brother:

Nettle
Akuseru, Rea
Hush
Mottle
Lunar

Education
Mentor(s):

N/A

Roleplaying

'Clan(s):
'Roleplayer:


Loner
Elorisa
Tai is a small, long-haired, ginger, white and brown she-cat with brown speckles in the ginger, ginger dots on her underbelly, brown paws, tufted ear-tips and tail-tip, and glowing, soft, and watchful leaf-green eyes.
History
Tai was born to Hush and Mottle, with a single brother, Lunar. Mottle names her, but the reason is not known.
She later ages, and meets Nettle, one of Creamsplash and Grayfoot's kits.
Tai later is expecting his kits.
She has his kits, named Akuseru and Rea.
They are later made into apprentices.
Relationships
Lunar
Lunar is her smart older brother. She is still close to him, even after they aged.
Nettle
Nettle is her mate. She loves him dearly, and would never love anyone else.
Akuseru
Akuseru is her only son, and she hopes for him to grow big and strong one day.
Rea
Rea is her daughter, whom Tai thinks of as her little butterfly; beautiful and fragile.
Images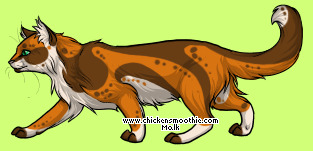 Real Life Image